2016 Season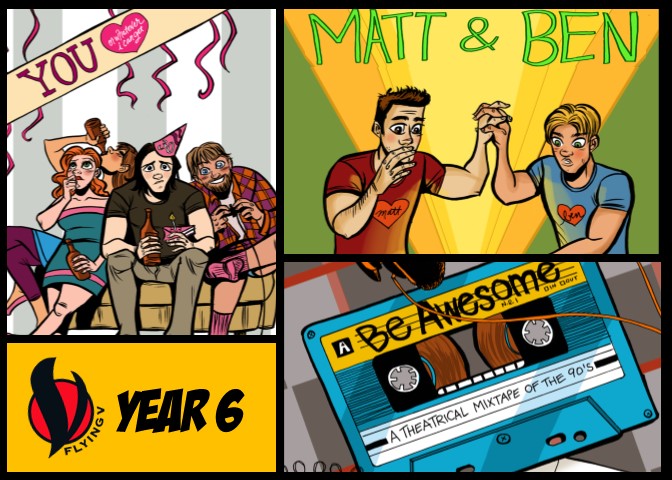 February 2016
You or Whatever I Can Get
Created & Written by Farrell Parker, Vaughn Irving, Steve Przybylski, Jason Schlafstein, and Doug Wilder
Directed by Jason Schlafstein with Musical Direction by Steve Przybylski
Performances at the Silver Spring Black Box
Coming off of 2014's sold out run at CapFringe and "Best Musical" award, Flying V, in a co-production with the National Conservatory of Dramatic Arts, returns with a more fleshed out look at: The Walk of Shame, that Guy who's always on the Couch, Friends with Benefits, J-Date, Drinking Zelco, Sexy Star Wars Jammies, Tinder, More Drinking, Screaming "I am an Attractive Man!" alone to your computer screen at 2am. And then that moment of sheer terror – I'm 30. I'm going die alone. This original song cycle looks at the anxieties, insecurities, desperations, and joys of dating and friendship in your late twenties and early thirties, with live music by the team that brought you the hit Disco Jesus and the Apostles of Funk.  We're all looking for someone – I want You. Or whatever I can get.
June 2016
Matt & Ben
Written by Mindy Kaling & Brenda Withers
Directed by Matt Bassett
Performances at The Writer's Center
Matt Damon and Ben Affleck. Before they were stars, they were just struggling actors and best friends looking for a break, when suddenly a script to a movie named Good Will Hunting magically appeared in Ben's apartment with both their names on it. A gift from god? A deal with the devil? This hilarious look at friendship and the lure of success is co-written by Mindy Kaling (star of The Office and creator of The Mindy Project). Check out the script that launched her to super-stardom!
September 2016
Be Awesome: A Theatrical Mix-Tape of the 90's
Conceived and Directed by Jason Schlafstein
Performances at The Writer's Center
An original, devised show out of the brain of Flying V's Producing Artistic Director and in the spirit of The Best of Craigslist and the Flying V Fights series; this theatrical mix-tape is an exploration of Memory, Nostalgia, and Transition through a  night of live action music videos set to the soundtrack of that totally Awesome decade – the 90's. Featuring puppetry, dance, live music, and astounding feats of physicality, this devised show takes us back to a time of flannel, slap bracelets, and Saturday morning cartoons, while asking the question of who we are now.