You, or Whatever I Can Get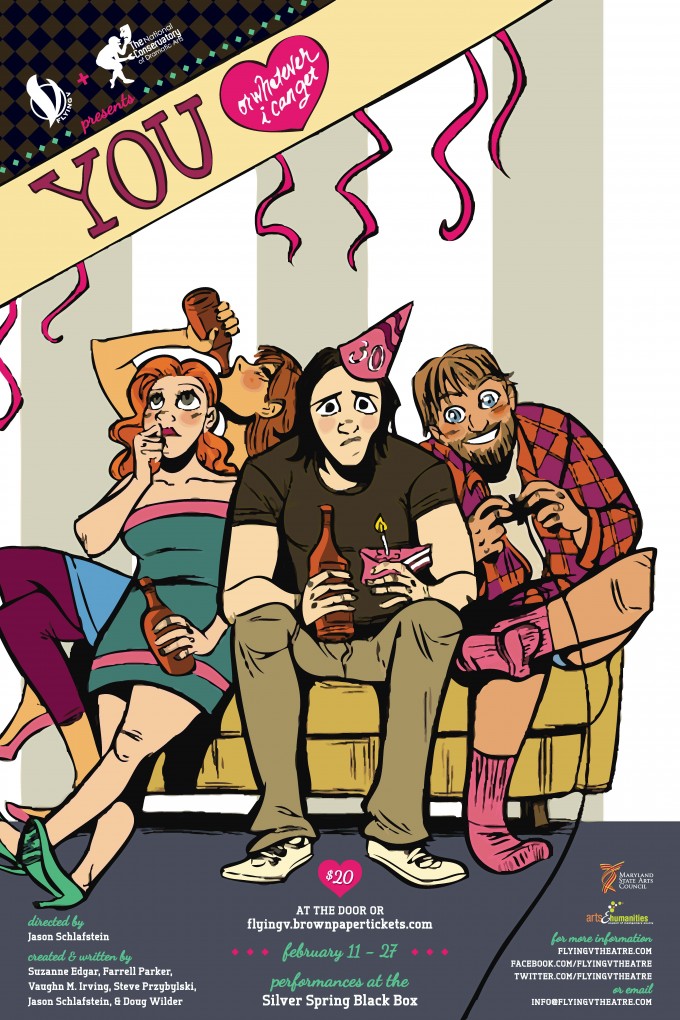 Coming off the successful, sold out, workshop production at the 2014 Capital Fringe Festival, Flying V brings back its award winning original musical (Best Musical, 2014 CapFringe), "YOU, OR WHATEVER I CAN GET" in an more fully fleshed out and even more Awesome elaboration on the original script!
Created & Written by Suzanne Edgar, Farrell Parker, Vaughn Irving*, Steve Przybylski*, Jason Schlafstein*, and Doug Wilder*
Directed by Jason Schlafstein* with Musical Direction by Steve Przybylski*
Co-production with National Conservatory of the Dramatic Arts
WORLD PREMIERE  The walk of shame, that guy who's always on the couch, friends with benefits, J-Date, drinking zelco, sexy Star Wars jammies, Tinder, more drinking, Screaming "I am an attractive man!" alone to your computer screen at 2am. And then that moment of sheer terror – "I'm 30. I'm going die alone". This original musical looks at the anxieties, insecurities, desperation, and joys of dating and friendship in your late twenties and early thirties, with live music by the team that brought you the hit Disco Jesus and the Apostles of Funk.  We're all looking for someone – I want You. Or whatever I can get.
WHEN:
Thursday, 2/11/16 @ 8pm (Preview)
Friday, 2/12/16 @ 8pm (Preview)
Saturday, 2/13/16 @ 3pm (Preview) & @ 8pm (Opening Night, includes reception)
Sunday, 2/14/16 @ 3pm
Monday, 2/15/16 @ 8pm (Industry Night)
Thursday, 2/18/16 @ 8pm
Friday, 2/19/16 @ 8pm
Saturday, 2/20/16 @ 3pm & 8pm
Sunday, 2/21/16 @ 3pm
Monday, 2/22/16 @ 8pm (Industry Night)
Thursday, 2/25/16 @ 8pm
Friday, 2/26/16 @ 8pm
Saturday, 2/27/16 @ 3pm & 8pm (Closing)
WHERE:
The Silver Spring Black Box, 8641 Colesville Road, Silver Spring, MD 20910
WHO:
Phil: Vaughn Irving*+
Dennis: Doug Wilder*
Jen: Farrell Parker
Victoria: Suzanne Edgar
Jason Schlafstein*: Director
Philip da Costa*: Stage Manager
Sarah Frances Williams: Assistant Stage Manager & Choreographer
Kristin A. Thompson*: Lighting Designer
Jos. B. Musumeci, Jr.*: Set Designer
Kathryn Kawecki: Costume Designer
Gordon Nimmo-Smith: Sound Engineer
Andrew Berry*: Technical Director
Julie Roedersheimer*: Assistant Technical Director
Lauren Evans: Master Carpenter
Tia Shearer*: Audience Designer
Britney Mongold*: Props Designer & Scenic Charge
Devon Ross: Front of House Associate
Jonathan Ezra Rubin*: Managing Director of Flying V
Jason Schlafstein*: Producing Artistic Director of Flying V
Philip da Costa*: Production Manager of Flying V
Will Pommerening*: Company Manager/Asst. Production Manager of Flying V
Heather Whitpan*: Marketing & Communications Director of Flying V
Ellys Abrams*: General Manager of Flying V
Susanna Pretzer*: Literary Manager of Flying V
Daniel Mori*: Intern Coordinator of Flying V
*Company Member of Flying V
+The Actor appears through the courtesy of Actors' Equity Association, the Union of Professional Actors and Stage Managers in the United States
 Reviews
"You, or Whatever I Can Get is a show about, and created by, millennials. This highly entertaining, poignant play is pulled directly from the writers' experiences, and the music itself speaks to their generation."
– Lauren Landau, DCist
"Fun and disarmingly sincere, You, or Whatever I Can Get is the type of musical I long to see more often."
– Kelly McCorkendale, DC Theatre Scene
"The musical comedy You, or Whatever I Can Get … soars not on invention but on bright melodies, solid jokes, and winning performances…. [it's] plenty boisterous, don't worry. And funny, and sympathetic, and sad. It's the whole package."
– Chris Klimek, Washington City Paper
"…'You or Whatever I can get,' is the genuine item; young adults behaving badly, but doing it with a brash style that leaves you grinning all the way out the door." – Andrew White, DC Broadway World
"There is no doubt that aside from its overall greatness, the most notable thing about 'You, or Whatever I Can Get' is its on-the-nose satire of young urban adulthood. … it's also a strong dose of ‪#awesome‬."
– Michael Poandl, DC Metro Theatre Arts
Reviews from the Capital Fringe Festival Workshop Production
Let's cut to the chase: You, or Whatever I Can Get is fantastic."
-Jonelle Walker, Washington City Paper
"Both musically memorable and lyrically insightful…it reaches a kind of generational truth many young artists are not yet capable of telling."
–Sarah Ameigh, DC Theatre Scene
"You, or Whatever I Can Get is poignant, hilariously funny, and moving all at the same time."​
–Rick Westercamp, DC Metro Theatre Arts
"Made from love; unabashedly realistic, boisterous and poignant."
-Jennifer Minich, Maryland Theatre Guide
"Really, really funny."
-Sarah Ameigh, DC Theatre Scene