2017 Season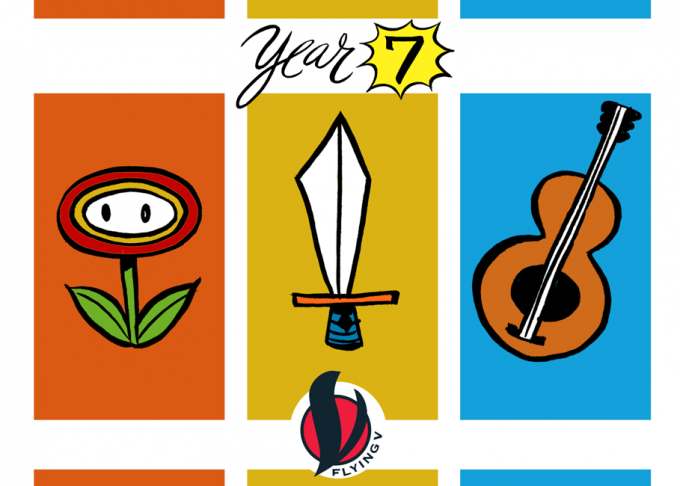 Written by Seamus Sullivan*
Directed by Paul Reisman*
Featuring: Lee Liebeskind*, Megan Reichelt*, Jon Jon Johnson*, Ryan Tumulty*, Grant Cloyd, Julia Klavans, and Amber Gibson
In this existential mashup of the worlds of Anton Chekhov and The Super Mario Brothers, Mario begins to wonder if there is more to life than jumping, go-karts, and princesses in other castles. Come visit the Mushroom Kingdom in this world premiere production by Flying V favorite Seamus Sullivan, to battle Bowser and mid-life ennui in equal measure.
Conceived and Directed by Jonathan Ezra Rubin* and Jason Schlafstein*
Featuring: Megan Reichelt*, Madeline Key*, Jon Jon Johnson*, Jason Tamborini*, Michelle Polera, Danny Cackley, James Finley, Christina Day, and Emily Whitworth
Flying V Fights is BACK with our third installment in the high-impact series that explores the intersection of stage combat, pop culture, and physical theatre. In this history of genre fiction as told through violent vignettes, learn the story of a world you never knew existed ‒ a world where giant creatures emerge from a monstrous island, where powerful people of bronze and steel protect the populace, and science has been commandeered in the service of the darkest arts. Take a tour behind the curtain and learn The Secret History of the Unknown World.
Music and Lyrics by Jonathan Coulton
Directed by Jason Schlafstein* and Vaughn Irving*
Popular singer/songwriter and cult classic Jonathan Coulton is known for his clever, engaging, and humorous songs that capture slice-of-life moments in high-concept situations — from zombie co-workers to lonely sea monsters. Using dance, puppetry, and new arrangements with a live band, Flying V is staging a collection of Coulton's songs and exploring what it means to be human in a vast world of possibility.
BE AWESOME!