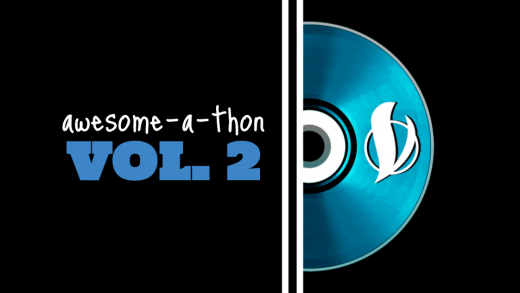 Come to Awesome-A-Thon Vol. 2 Hosted at our offices in Bethesa!
9:00 PM APRIL 7th until 10:00 PM APRIL 8th
Performances @ The Bethesda Chevy-Chase  Regional Services Center
4805 Edgemoor Ln. Bethesda, MD 20814
24 straight hours of Flying V programming featuring work from the past, present, and future of your Friendly Neighborhood Indie Theatre. Whether you love Flying V shows already or have never seen them before, there is something for everyone to enjoy.  Everything from staged readings, a burlesque show, live podcasts recordings, children's theatre, a video game lounge, a silent auction, and more, featuring your favorite Flying V Company Members and our friends!  Experience a taste of what Flying V has to offer in this one of a kind event.  Come for an hour or come for the whole day.
Admission is a Pay-What-You-Can suggested donation at the door!
And check out the cash bar serving beer, wine, & liquor for most* of the event!
24hrs of AWESOME Programming
9:00 PM The Very Fabric of Reality featuring Zia Hassan
10:00 PM Flying V in Concert
11:30 PM The Dark Knight After Dark
12:30 AM Champagne Supernova with Britney Mongold
1:30 AM Flying V in Workshop
3:30 AM Geek Brunch: Bagels and Bad Movies
7:00 AM Awesome Yoga with Michelle Polera
8:30 AM Emma Beansworth Finds A Pet
10:00 AM Saturday Morning Cartoons LIVE!
11:00 AM Flying V Writer's Podcast: Seamus Sullivan
1:00 PM Fight Like a Superhero Workshop with Jonathan Ezra Rubin
3:00 PM Matthew Pauli: Live in Performance
4:00 PM The Original Cast LIVE!
6:00 PM STRIP: An Abbreviated History of Burlesque
8:00 PM Joss Whedon Musical ~ Double Feature
---
Also featuring a full-time game room! With awesome games including:
1:30am-7am D&D with Nerissa Sarah Hart and Zak Marsh. There will be two D&D campaigns going on that people can drop into and play with our Game Masters Nerissa and Zak. No prep necessary they will give you a character and lead you through a campaign.
8:30am-10:30am we will have a bevy of kids game available to play some things with your family. We will have people around to help teach and play with kids of all ages.
10:30am-11am Coffee Monster Drawings with Britney Mongold. Attendees will be provided with coffee, paper, pens, colored pencils and regular pencils. We will embrace the dribbles by letting our coffee spill-slosh-spatter the paper, allow to dry, and then use our imaginations to transform the splotches into the Monsters they inspire. Guests may create as many creatures as they like. Child-friendly.
1pm-5:45pm Magic The Gathering Commander Game Play. Come bring your favorite commander decks and play some casual Magic The Gathering Commander with our company members. There will be decks around if you don't have one and want to join in.
---
Also, an incredible silent auction featuring prizes such as:
– 1 Week Vacation in a gorgeous Montana Cabin
– 1 Week Vacation in a cozy North Carolina Beach Cottage
– Rum & Glasses from BlueDyer Distilling Co.
– Hand made candlesticks from The Gary Rosenthal Collection
– Hand made pottery by Susan Rubin's Pottery & glass vases by Mama J's Studio
– Hand made scarves and custom glitter heels by Toni Goldberg
– A flight-seeing tour over Maryland for up to 3 people, courtesy of OpenAir Flight Training
– A personal shopping consultation with company member & costume designer, Sydney Moore
– A painting by company member, Britney Mongold
– Coffee from Mocha Joe's Roasting Company
– Tickets to the AFI Silver Theatre and Cultural Center
– Tickets to Pointless Theatre Co., Forum Theatre, Constellation Theatre Company, Woolly Mammoth Theatre Company, and more!
*(Alcohol service suspended between 1am-10am due to Montgomery County Liquor Laws)