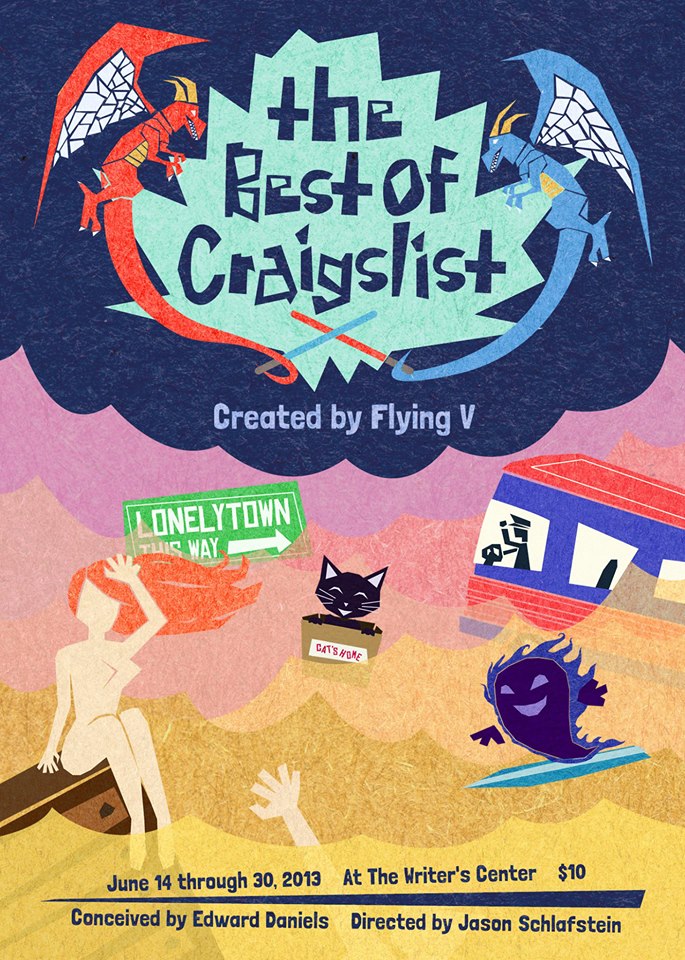 Conceived by Edward Daniels*
Directed by Jason Schlafstein*
Created by Flying V
The struggle for human connection is universal – and nowhere is the humor, frustration, and terror of other people more on display than Craigslist, the ultimate Want Ad of the internet. In Flying V's first fully devised production, we're diving deep into the waves of the World Wide Web as our incredible cast cracks Craigslist wide open and takes on 37 separate posts to adapt for the stage. We're using puppets, punches, ukeleles, and a bedazzled loin cloth to create a night that ranges from the hysterical to the tragic to the just plain weird.
Looking to a hire a Dragon Slayer? Need to unload a sturdy wood dresser possessed by the demonic spirit of your ex? Woke up to a naked stranger in your bed and want to make that Missed Connection? You must be on Craigslist – and so are we. With text taken directly from actual Craigslist ads, the internet comes to life in this original show created and performed by Flying V.
Where: THE WRITER'S CENTER (4508 Walsh St Bethesda, MD 20815, a short walk from BETHESDA METRO. There is a metered lot out front and PARKING IS FREE SATURDAY and SUNDAY.)
When: 6/14 thru 6/30
THURSDAYS at 8pm (6/20, 6/27)
FRIDAYS at 8pm (6/14. 6/21, 6/28)
SATURDAYS at 8pm (6/15, 6/22, 6/29)
SUNDAYS at 2pm (6/16, 6/23, 6/30)
How Much: $10
(the best entertainment value in DC)
Tickets are ON SALE NOW at http://flyingv.brownpapertickets.com/ or can be purchased at the door.
Featuring – Katie Nigsch-Fairfax*, Britt Duff, Eugene Fertelmeyster, Nick Hagy, Edward C. Nagel, Megan Westman
Production Team – Andrew Berry*, Jessica Chinelli*, Colin Grube*, Dre Moore*, Shannon Musgrave*, Jonathan Ezra Rubin*, Christine Alexander, Rachel Cervarich, Kyra Corradin, Ian Jordan, Neil McFadden, Kris Thompson, Denise Umland, and Cody Whitfield.
*Flying V Company Member
To support this show, please click here.