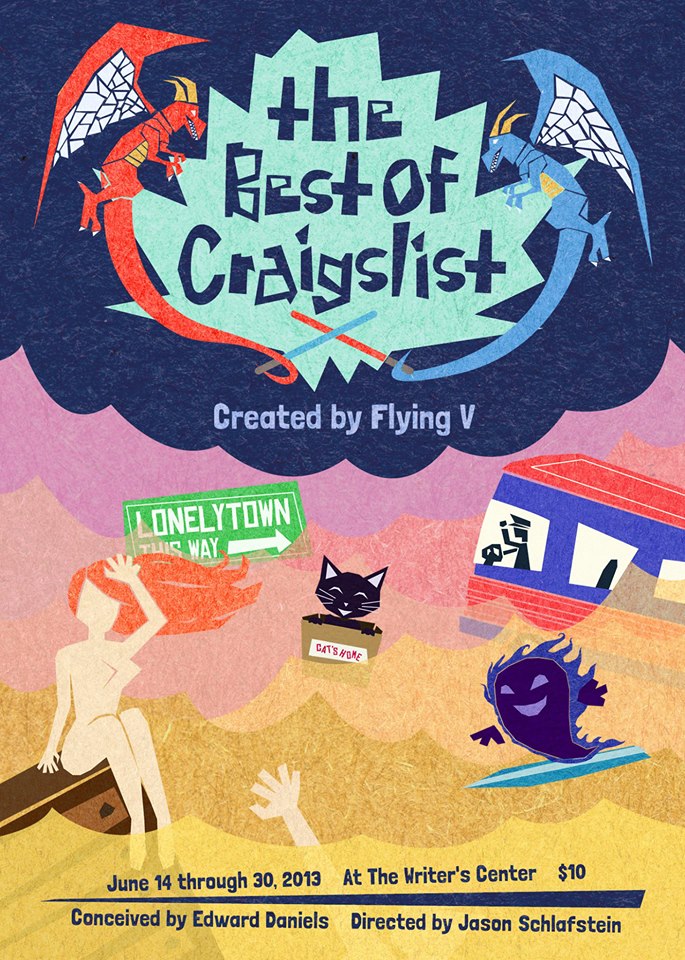 Created by Flying V
June 14, 2013 – June 30, 2013
THE WRITER'S CENTER (4508 Walsh St Bethesda, MD 20815, a short walk from BETHESDA METRO. There is a metered lot out front and PARKING IS FREE SATURDAY and SUNDAY.)
The struggle for human connection is universal – and nowhere is the humor, frustration, and terror of other people more on display than Craigslist, the ultimate Want Ad of the internet. In Flying V's first fully devised production, we're diving deep into the waves of the World Wide Web as our incredible cast cracks Craigslist wide open and takes on 37 separate posts to adapt for the stage. We're using puppets, punches, ukeleles, and a bedazzled loin cloth to create a night that ranges from the hysterical to the tragic to the just plain weird.
Looking to a hire a Dragon Slayer? Need to unload a sturdy wood dresser possessed by the demonic spirit of your ex? Woke up to a naked stranger in your bed and want to make that Missed Connection? You must be on Craigslist – and so are we. With text taken directly from actual Craigslist ads, the internet comes to life in this original show created and performed by Flying V.
Creative Team
Featuring – Katie Nigsch-Fairfax, Britt Duff, Eugene Fertelmeyster, Nick Hagy, Edward C. Nagel, Megan Westman
Production Team – Andrew Berry, Jessica Chinelli, Colin Grube, Dre Moore, Shannon Musgrave, Jonathan Ezra Rubin, Christine Alexander, Rachel Cervarich, Kyra Corradin, Ian Jordan, Neil McFadden, Kris Thompson, Denise Umland, and Cody Whitfield.
Reviews
"…captured the true spirit of Craigslist, both trolling and sincere, with a bemusing and moving piece of theater. The Best of Craigslist is a great time and a unique piece of theater, sure to broaden your horizons to a new side of pop culture."
– Max Johnson, DC Metro Theater Arts
"It happens rarely when the stars and planets align, and the right material finds its way into the hands of the right cast of young, immensely talented performers; but folks, it's happened. The Mothership has landed."
– Andrew White, DC Broadway World
"Likely to be a hit with 20-something social media gurus and the general theatergoing population alike, it's exemplary of the kind of work that can traverse the line between mainstream theatre and social commentary…"
– Jennifer Perry, DC Theatre Scene
"…the things you find on Craigslist never cease to amaze…The cast and direction make it an unflaggable experience."
– Elliot Lanes, MD Theatre Guide